Because life pulls us in all directions and chaos floods our mind, mindfulness is much needed to give us clarity and peace from within. Mindfulness is awareness infused with intention. It means to hyper-focus on purpose, on the present moment with a clear headspace. The practice of mindfulness will offer us a new perspective to view our life afresh, to create a novel relationship with our own mind, body, and people around us.
Not that keen on the usual and formal meditation? There's no need to sit on a cushion with your eyes closed; the key is syncing your breath with your movement as you prep for your workout. Give your workout a mindful makeover because it will:
increase the effectiveness of your workout

decrease your chances of injury

allow you to enjoy your workout more
Here's what we recommend.
1. Attend a yoga class
Image cred: rimakruciene on Unsplash
An asana practice is the perfect place to put your mindful thoughts in motion. Rather than a system of separate postures linked together with breaths, mindfulness will allow your vinyasa to become the moment to moment awareness – one breath per movement. So brush the dust off your mat and start taking that refreshing breath as you start on yoga.
2. Stretch
Ready, set, stretch! Infuse several simple stretches into your day because stretches are not just a precursor to actual real exercise or a post-exercise formality. It allows us to slow down and tune into our bodies in a way no other movement does. But all too often, stretching takes a backseat to our other pursuits which are viewed as more result-driven and useful. Try a short and sweet stretch as quick as pandiculation. Bring both palms to your shoulders, raise your elbows, open your mouth and let out a satisfying yawn to stretch out your ear drums. Let mindfulness seep into your stretches as you bring your attention into the area that you are stretching and breathe into the muscles with ten slow breaths. Notice how your focus and breath will support your body to open up and expand with greater ease.
If you are stretching on a mat, also ask yourself how the mat feels, to develop a deeper connection and attachment to your stretch routine.
3. Breathe
Image cred: maxvdo on Unsplash
Think of breath as mini meditation, a time and a skill to help you deal with stress, negative emotions and sharpen concentration. Mindful breathing has an accumulative impact so the more you practice, the more you benefit and reap. The act of taking a single purposeful breath can make a meaningful contribution to managing stress as well.
It may be better to set aside a designated time to inhale and exhale but feel free to suit your needs. Breathe to this GIF by Mindful to calm and soothe out your stress.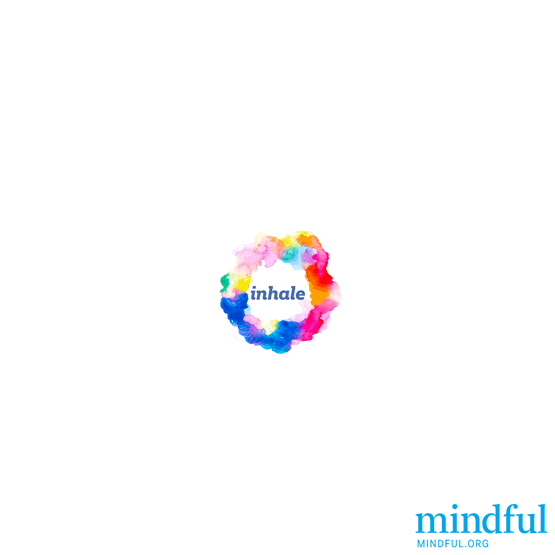 4. Go for a mindful walk

Image cred: anete_lusina on Unsplash
Get up and go for a walk. It could be outside in the outdoors or back and forth in a large room. All you need to do is put one foot in front of the other at your natural pace and focus. Attend to what is around you, think about the weather, the various smells in the air, if you feel tense of stiff (adjust your posture if so) because these are all essential cues to mindfulness.
As hectic as life can get, even a mindful walk to fetch your caffeine fix will make a difference! Go with the flow and make up your own mindful moment-to-moment experience.
Nilufer Tea
Every now and then, you need a cup of tea to help you relax and continue the journey of mindfulness. Nilufer Tea has the perfect calming tea: Lemon & Chamomile Tea. Chamomile is a well-known flower that helps to soothe your nerves, and the citrus perks your mind and body.
RECEIVE BLOG UPDATE NOTIFICATION